| | |
| --- | --- |
| | Tuesday, May 30 2023 |
WiPT: Big Roger Team wins the team tournament

The Circle Clichy-Montmartre hosted on last Sunday the final of the poker tournament by team of the Winamax Poker Tour (WiPT). The Big Roger Team stood out during this tournament which consisted of full ring, short-handed and head-up, after a final played with the Dead Money Team. By the beginning of the competition, spectators' attention was fixed on the Big Roger Team, which was composed of experienced players in the persons of Roger Hairabedian, Antonin Teisseire and Stéphane Bazin. A total of 294 players spread over 98 teams, among whom 50 qualified for free took the departure of this tournament with a buy-in of €990. The Big Roger Team won the final, after a semifinal in front of the Team Starboobz, which was made up of François « starbob »' Robert, Pierre « sharkl0 » Drochon and Clément « Narcofisho » Bonnin.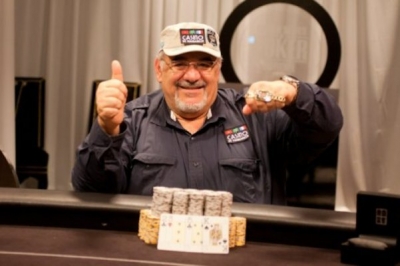 Big Roger was quite simply royal during the Day 3, with his four heads-up won. The final was played in a one way, because the Dead Money Team (Jérémie, Sandra and Neil) couldn't keep Roger Hairabedian, Stéphane Bazin (holder of a triple WSOP bracelet) and Antonin Teisseire under control. The Big Roger Team won his two matches and becomes the champion of France 2014 of the WiPT by teams. The Big Roger Team won €30,000, against €19,800 for the Dead Money Team, runner-up of the tournament. Semi-finalists of this poker event, we find La genèse (Clément Thumy, Hugo Lemaire and Yann Brosolo) and the Team Starboobz in the 3rd and 4th place, for a gain of €10,200.

Wednesday, 12 March 2014

This page has been viewed 769 times.


All trademarks and copyrighted information contained herein are the property of their respective owners.