| | |
| --- | --- |
| | Tuesday, March 28 2023 |
Live Poker: A 41st special publishing to summarize the year 2010

To mark the end of the year 2010 and the beginning of 2011, a new special publishing of Live Poker, the 41st of its kind is currently in publication and is already available in kiosk. As usual and this for a few years, this magazine summed up in its few pages the results of the poker community on behalf of 2010. Thus, the highlights of the year that has just ended in this discipline are on the menu for this special issue. Besides the annual retrospective, the ranking of the year is also included in this 41st publication. Faithful to is manner of presentation, this new issue of Live Poker differs only from other numbers by its release during the holiday season.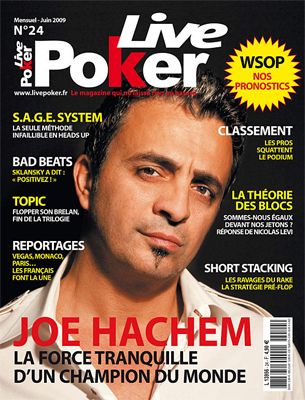 Thus, this special issue has not failed to make a comeback in a comprehensive manner the various events it considers as important in the past year in its articles with some photos. On the front of this magazine is the classification of French players and the exclusive interview of the man who held the top spot in the person of Roger Hairabedian. On the other hand, this special edition introduce also readers to the portrait of 4 players who hold places of honor in this ranking. As usual, Live Poker also revealed to its loyal readers a wide technical topics such detailed analysis of ElkY around both hands played at France Poker Series Forges-les-Eaux, or tricks to increase chips in tournament and how to operate the most a deep stack, or a file that speaks about the continuation bet.

Tuesday, 04 January 2011

This page has been viewed 766 times.


All trademarks and copyrighted information contained herein are the property of their respective owners.