| | |
| --- | --- |
| | Wednesday, March 22 2023 |
Mazagan Beach Resort: The accommodation of the EPT as objective

Apart from the Casino Es Saadi Marrakesh, Morocco is now a discovering a new poker destination with the Mazagan Beach Resort. This large hotel complex with 500 rooms, a golf course and a lavish casino is located at one hour from Casablanca. It is a real palace, which attracts tourists. But the Mazagan Beach resort is also a prominent place in the poker world. It's also a preferred meeting point by poker enthusiasts with its monthly poker tournament even if until now, the complex has not yet hosted major tournaments like the World Poker Tour. Furthermore, with the Mazagan Poker Million tournament which just crowned Roger Hairabedian as a champion of the 10 th edition, the Mazagan Beach Resort attracted many famous poker players like the French Fabrice Soulier and Antoine Saout.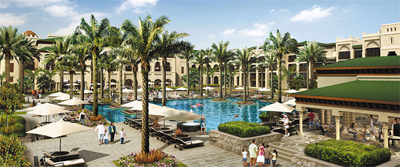 The Mazagan Poker Million was a huge success and organizers hope to build a much better result for the 2011 edition. The Mazagan Beach resort may well rival the Casino Es Saadi as tournament host. Moreover, it just brought a touch of decoration in the casino by being inspired on the famous Bellagio Casino of Las Vegas. It also appears that the Mazagan Beach Resort has already asked to the organizers of the European Poker Tour (EPT) to host an African stage of the event in 2012 and relies on the reputation of its monthly tournament to attract approximately 400 professionals and enthusiasts to participate in the poker tournament.

Wednesday, 15 December 2010

This page has been viewed 1494 times.


All trademarks and copyrighted information contained herein are the property of their respective owners.