| | |
| --- | --- |
| | Tuesday, March 28 2023 |
Mazagan Poker Million: Sixty applicants for the € 2,000 Main Event

The Mazagan Poker Million has already achieved a long way and this tournament attracts now a lot of professionals. A monthly meeting which is hosted by the prestigious Mazagan Beach Resort. This beautiful place that aims since its opening to receive great poker tournaments including the Mazagan Poker Million project. For the month of December and the last of this year 2010, a brave handful players numbering about sixty faced each other from the beginning to the end of the week as part of the main event with a buy- in fixed at € 2,000.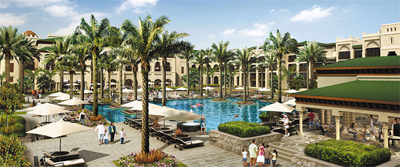 The Mazagan Poker Million of this month saw the participation of aces poker from France as Fabrice Soulier, Antoine Saout, Leo Truche, Antonin Teisseire, Alain Roy, Julien Brécard, Marion Nedellec, Jérémy Palvini, Sarah Herzali, Rachid Rami, Samuel Chartier, Karim Benani, Anas Tadini, Marine Jouaillec and also Roger Hairabédian. Moroccan fans of poker didn't also miss this event with the regulars of private parties in Casablanca or Es Saadi Casino of Marrakesh such as Zizi Abdou and Abdelhadi Kondah. A very nice explanations in short between foreign professionals of the discipline and the best local specialists. Moreover, other participants in this Moroccan tournament were not certainly just there to make tourism or to considerate themselves as simple spectators. Anyway, this week was very hot and the verdict of this confrontation will be soon known.

Thursday, 09 December 2010

This page has been viewed 858 times.


All trademarks and copyrighted information contained herein are the property of their respective owners.