| | |
| --- | --- |
| | Friday, March 24 2023 |
Cercle Hausmann : Estelle Denis triumph at the Ladies tournament

The poker tournament for women, the € 300 Ladies of the Cercle Haussman, organized by the host of Poker Mission Caraïbes, Karine Nogueira marked the end of last week. Besides the jackpot promised to the best, there was a package for the World Series of Poker 2010 offered at the Ladies tournament. The 58 participants mostly belong to the community of the best poker player. Among these players present at this event, there was Alana Pariente, Amandine of the TV broadcast Direct Poker, Carole Namias, Caroline Diamant, Cathy Hongla, Elky's friend, Christelle Cherubini, Estelle Denis of the TV channel M6, Mercedes Osti, Lucille Cailly, Lucille Denos, Margaux Ponelle, Raquel Azran, Rebecca Gerin or Valerie Pignot.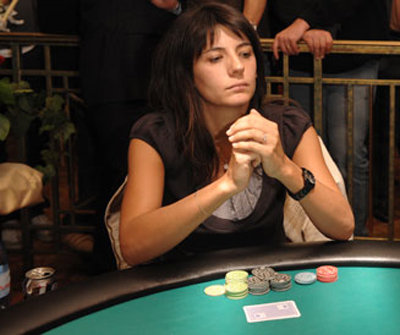 Practitioners have taken pleasure in fighting one another thanks to a very good organization. With rounds of 30 minutes and 15,000 starting chips, congeners of Eve have shown for hours and hours what they are able, then the trophy has been awarded to the most talented who is anyone than Estelle Denis, presenter of M6. She was placed before Barbara Martinez with a gain of €4,800. One more victory thus adding to her 203rd place finish at the Main Event of the WSOP 2009. It is regrettable that the friendly talk show host can't honor the Ladies WSOP 2010 appointment. She then passed the ticket to the vice champion of the tournament, the runner-up Barbara Martinez who already won € 3,520.

Wednesday, 19 May 2010

This page has been viewed 1139 times.


All trademarks and copyrighted information contained herein are the property of their respective owners.