| | |
| --- | --- |
| | Tuesday, March 28 2023 |
All In: When the manga is combined with poker

The reputation of poker in French society is a fact well known. Poker has become a passion federative of all social categories where white-collar face blue collar, unemployed against students, the woman faces confirmed macho. Poker is combined with any current, fashion, lifestyle. It is currently interfering in the culture. After films and novels, now it arrives in the manga. Of course, poker also interest fans of manga. With the series All In, Humanoïdes Associés present to the community of fans of manga a thrilling publication in French. The series includes three volumes: That's poker, Back to Business! and Under the Gun.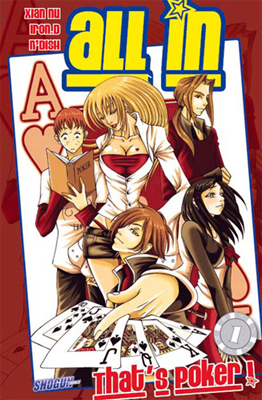 The series relate the life and the wanderings of a young storyteller, named Thomas Volpe with a sprig pathological liar. Conscious that he is a born liar, he will take advantage of this "talent" while playing poker. Self-mockery, pretty girls and scenes of humor are the ingredients of this new opus. The light and playful approach of poker allows outsiders to identify the scope of the basic rules of poker. In this series, the authors highlight the psychological and strategic of poker. The book will appeal to both experienced players and beginners, who will spend a pleasant moment in the company of these colorful characters. The three volumes are on sale in bookstores.

Thursday, 01 April 2010

This page has been viewed 841 times.


All trademarks and copyrighted information contained herein are the property of their respective owners.