| | |
| --- | --- |
| | Friday, March 24 2023 |
Sky Poker Tour: Jarvis wins the Main Event

The Sky Poker Tour tournament has passed in the small British town of Luton this weekend. The competition, held at Casino G. attracted 150 players. Among them were a bunch of famous players like Pundit John McCririck, the glamorous Kitty Lea and former footballer Micky Hazard Spurs, who continued the adventure until the final table. But it was finally Ross Jarvis who was crowned at the end of the tournament. Jarvis approached the final table with the third largest carpet, after fighting to survive the bursting of the bubble. Phil Jenkins was the first victim of Jarvis, he was eliminated in the 4th place when he pushed his short stack to 7-8 against the two Queen of Jarvis. From there, Jarvis began to build a considerable lead over the competition.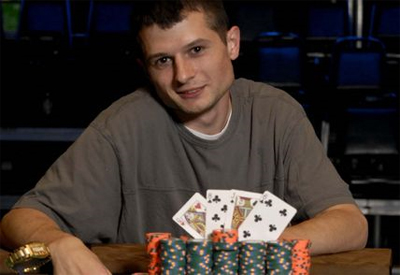 In the last hand against Tony Stroud, Jarvis "raise" with A-9, which triggered all-in by Tony who was 10-J. Jarvis followed with 4-7-3-6-3 on the table, he won the tournament. Before the Sky Poker Tour, Jarvis had already won the tournament Virgin Poker Tour Newcastle in 2009 and he was very excited for this victory: "I am really happy with how I played and it's always nice to win a tournament. My intention was simply to put pressure on other players at the final table as far as I could. " With this victory and Jarvis Price £ 4,000, he also earned a ticket for the Sky Poker Tour Grand Final to be held in September, "I am looking forward to this and hope to the doublet in the Sky Poker Tour.

Monday, 15 March 2010

This page has been viewed 675 times.


All trademarks and copyrighted information contained herein are the property of their respective owners.