| | |
| --- | --- |
| | Tuesday, March 28 2023 |
Magazine: Live Poker # 30 in the kiosks

After having dedicated his last number of the year 2009 to Joe Cada, the youngest world champion of poker of all the history, the French poker magazine of reference, Live Poker returns this January. The first specimen of the year 2010 is consecrated to the classification of players of poker French. This number 30 of Live Poker puts at the honor the 1000 players who marked 2009. At the head of this classification, we find the sure value of the French poker Roger Hairabedian, victorious of the Grand Prix de Paris in 2008. Roger who has been just elected as the best French player of the year 2009, preceding JP "El Corsico" Pasqualini and Eric Haik. Hairabedian succeeds to Bertrand "ElkY" Grospellier who was the best player of the year 2008.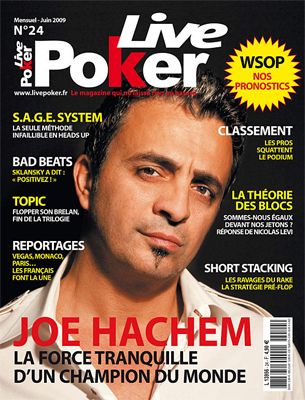 We can find in this magazine too the portrait of the 25 players who marked the year 2009, we can find the detailed classification of the first 500 players with their number of points as well as the comparison of their progressions compared to 2008. The classification Live Poker became the reference of the evolution and the level of the players in France. Casino owners and directors of poker room organize their tournaments while endeavoring to respect the qualifying criteria at the invaluable points, as guarantee of an influence to the appointment. At the summary of this new number, there will be also the usual headings as well as live reports. Live Poker is sale in the kiosks at the cost of 4.90 €.

Tuesday, 05 January 2010

This page has been viewed 467 times.


All trademarks and copyrighted information contained herein are the property of their respective owners.