| | |
| --- | --- |
| | Thursday, June 08 2023 |
IPO of Ireland: A record participation promises

International Poker Open of Ireland appears on the top of list of European amateur tournaments of poker the most waited this year. Two months before the beginning of the tournament which promises to be the biggest tournament of poker of the Old Continent, almost seats for International Poker Open are now sold. Last year more than 1,000 players came at the Irish capital. This year, organizers are waiting for 1,300 players which have 300 extra more than during the previous edition. According to organizers, 1,000 places on 1,300 will be attributed by some days. There is no more places for the day 1A, one day which counts nevertheless 500 seats. There are another 200 seats for the most fortunate persons who want to play at the Irish adventure by paying the buy-in themselves.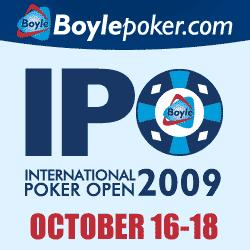 A person in charge of the organization declared "to be delighted to see the craze of players. The first 1,000 seats will not take time to disappear. However there are still numerous seats on online qualification. Big names of poker who will come to participate in the event as VIP already have places booked for them". So, for this 2009 edition, International Poker Open of Ireland expects to beat a record of participation. The popularity of the Irish event is due to its excellent report quality/price, seen its low buy-in and the gain in perspective. €300, 000 of prizepool and €50, 000 promised to the winner are going to persuade numerous French players of poker to go there. Let us note that the International Poker Open 2009 will be held in the Irish capital at the Regency hotel from the 16th till the 18th of October of this year.

Tuesday, 25 August 2009

This page has been viewed 437 times.


All trademarks and copyrighted information contained herein are the property of their respective owners.