| | |
| --- | --- |
| | Thursday, June 08 2023 |
WSOP 2009: Margets Leo, more than $350,000 of gain at the Main Event

Who says that women haven't their place in big poker tournaments as the World Series of poker (WSOP)? This year, enthusiasts of this game listened a lot about the French woman player, Estelle Denis who was classified among the last 400 players at the Main Event, what made the pride of all French. But all Spanish persons were also delighted thanks to the exploit of their compatriot, Margets Leo or Leonor, who was the woman who reached the best position in the classification during this Las Vegas tournament. Indeed, she was able to arrive at the 27th position among 6,494 players participating in the Main Event of WSOP and went back in Barcelona with a gain of $350,000.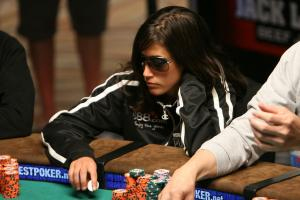 Aged 25 years old, this Spanish player was thus the last woman eliminated during this tournament of the World Series of poker 2009 (WSOP) . She replaces so Tiffany Michelle who was classified at the 17th place during the Main Event of last year. Let us note that her gain is classified at the 3rd position of the most important sum won by a woman during an event of the WSOP. Nani Dollison with $441,440 in 2001, Tiffany Williamson who had received $400,000 during the Main Event 2005 (15th) were before her. With her style of game "tight-aggressive ", she had already pocketed too $3,571 for her second place during the Spanish Poker Tour 2009 at €300 of buy-in and $2,271 in the Spain Championship of poker 2008 (2nd position).

Monday, 03 August 2009

This page has been viewed 611 times.


All trademarks and copyrighted information contained herein are the property of their respective owners.